The Weather Station in Hillerød, Denmark
Welcome to the weather station in Hillerød - approximately 3 kilometres (2 miles) East of Hillerød centre and Frederiksborg Castle.
We are delivering weather data to DMI Borgervejr, which is the Danish Meteological Institute. You will find the station by clicking on North Sealand. Instead of going via the DMI website, you can click here to see the DMI graphs directly. Additionally data is delivered to Weather Underground.
If you continue into the data section you will find very detailed tables and graphs of the observed weather.
If you want to see historical data in NOAA table format, please click here. The tables contain data for every 5 minutes up to 8 days back in time. You can also see day-by-day and month-by-month up to 3 years back in time. Updated every 5 minutes and every day at midnight.
Contact address: kontakt@hilleroed-vejr.dk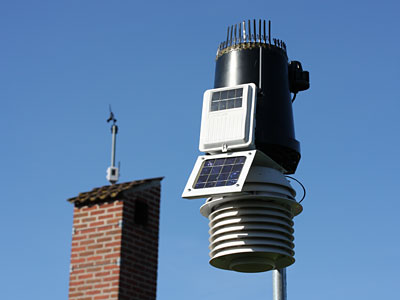 The Station Location
55°56′39.1″ N (55.944207 N)
12°20′14.4″ E (12.337341 E)
Located 49 meters / 161 feet above sea level
Sunrise & Sunset times for 2016 at the weather station.
You will find a map of the station and you can watch the station from birdview using Google Earth.
See actual and historical data as tables and graphs!
Copyright © 2006,2016 Roland Lyngvig